For Sale
We have a good selection of breeding stock as well as embryos and semen for sale most of the time. Please feel free to contact us for any information.
Livestock
Livestock always for sale
Please contact us for latest availability: Phone us on 07542 091495
Semen
SUISSE B
Suisse B is by the famous Jordy from the domaine des forges herd.  He went on to become stock bull at the Camus herd where he stamped his mark, leaving some terrific breeding stock.  A breeder's bull, he has terrific legs, carrying a lot of power.
He has had many successes in the show ring in France, including 1st at National Show 2007 and European Champion at the Open-Eurolimousine Show at Ville Pinte in 2005.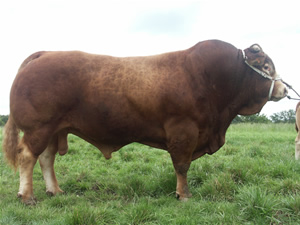 Embryos
As a herd we have carried out a lot embryo work with our best three cows. We have had much success, In April 2005 the record books were rewritten at our on-farm production sale when a recipient heifer carrying an embryo went under the hammer for an incredible world-record price of 5,500gns.
The mating that triggered this Limousin world record embryo price was the truly Royal pairing of Grahams Samson, himself the Limousin world record priced bull and ILC 2004 National Show Champion, and Ronick McAinsi, the Royal Show Overall Supreme Limousin Champion 2004. With the same breeding we bred Brockhurst Batik who we sold for 22,000gns, our top price for our on-farm production sales.
Ronick McAinsi is a superb breeder she has also produced embryo calves to 7,000gns (Ronick Matador), 3,500gns (Wilodge Vantastic) and 3,400gns (Ramses).
Reseda has flushed consistently well producing calves to 5,400gns, 3,800gns, 2,900gns and 2,800gns, she has tremendous muscling and milking ability whilst remaining very feminine.
Segala is huge framed cow with great plates and is nicely muscled, she is our most recent cow to be flushed and has so far bred calves to 2,800gns.
Order Form
ALL PRICES EXCLUDE DELIVERY (CHARGED AT COST)